Download, using wildcard characters
How to use wildcard characters?
Select folder that contains files for download.
Click on the Download button or right-click on the selected folder and select Download-Show Transfer Manager from the popup menu.
All files listed in the selected folder will be downloaded. The following wildcard will be used: *.* Note: Subdirectories will not be included. Note: You can edit the wildcard. In the Transfer Manager window select the transfer item and click on the Edit button or right-click on the selected transfer item and click Edit command from the popup menu. In the Transfer Item window modify parameters.
AutoFTP main window: "transfer" remote folder selected and the contents will be downloaded to "_download" local folder.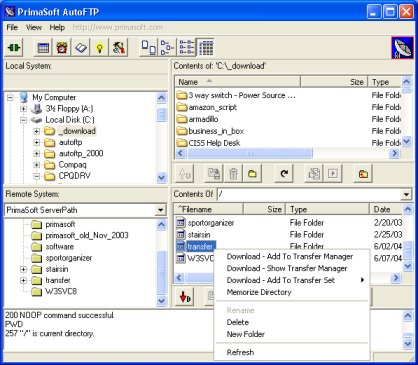 Transfer Manager: displays a wildcard *.*

Transfer Item: edit transfer item, for example change *.* to *.gif in the Remote File Name box.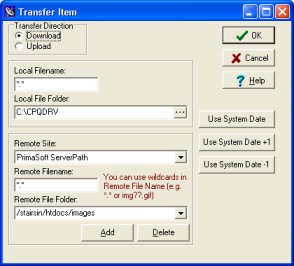 Note
In the above example the folder was selected for download. You can also select one file for download and later modify the transfer item in Transfer Item window.
Transfer Item: edit transfer item