Transfer sets

---

Auto FTP Premium

AutoFTP Premium allows you to select any number of files from any FTP site or your local computer, from different directories, to download or upload. You can save them into templates (transfer sets). In the future click on the Load push button in the Transfer Manager window and load a previously defined transfer set from the Load Transfer Set dialog box. You can schedule the upload / download transfer sets for any future date/time with the ftp scheduler.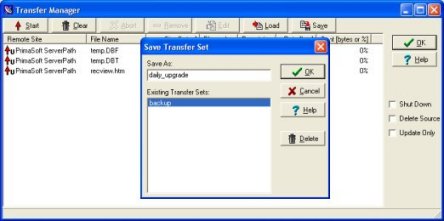 Other key features: Auto transfer, transfer scheduler , Transfer Set , FTP Template , FTP Assistant , FTP Interface , Activity Log , Special Action , Wildcards , Zip and Unzip , Download Site, Folder , Upload Site, Folder , Delete Site, Folder ,


Keywords: ftp transfer sets, ftp template, templates, transfer set, download, upload, ftp scheduler, ftp batch

for Windows
CDrom or download
30 days risk free
You can setup the complicated transfers into templates and save them. In conclusion. This is THE program to get file transfers done on a schedule automatically and easily ...