FTP assistant

---

Auto FTP Premium

FTP Assistant will help to setup your first transfers. Assistant allows you to define immediate transfers or scheduled upload and download tasks with ease. No need to write complicated scripts. You can setup the complicated transfers into templates and save them.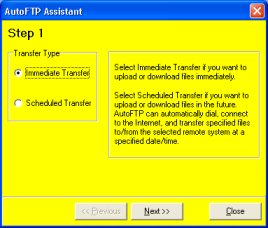 Other key features: Auto transfer, transfer scheduler , Transfer Set , FTP Template , FTP Assistant , FTP Interface , Activity Log , Special Action , Wildcards , Zip and Unzip , Download Site, Folder , Upload Site, Folder , Delete Site, Folder ,


Keywords: ftp assistant, easy ftp, easy to use

for Windows
CDrom or download
30 days risk free
In 6 easy to follow steps the assistant will walk you through how to do one or more file transfers immediately. This is the best feature, the AUTO-FTP assistant will help you to setup a scheduled FTP in only 5 easy to follow steps!